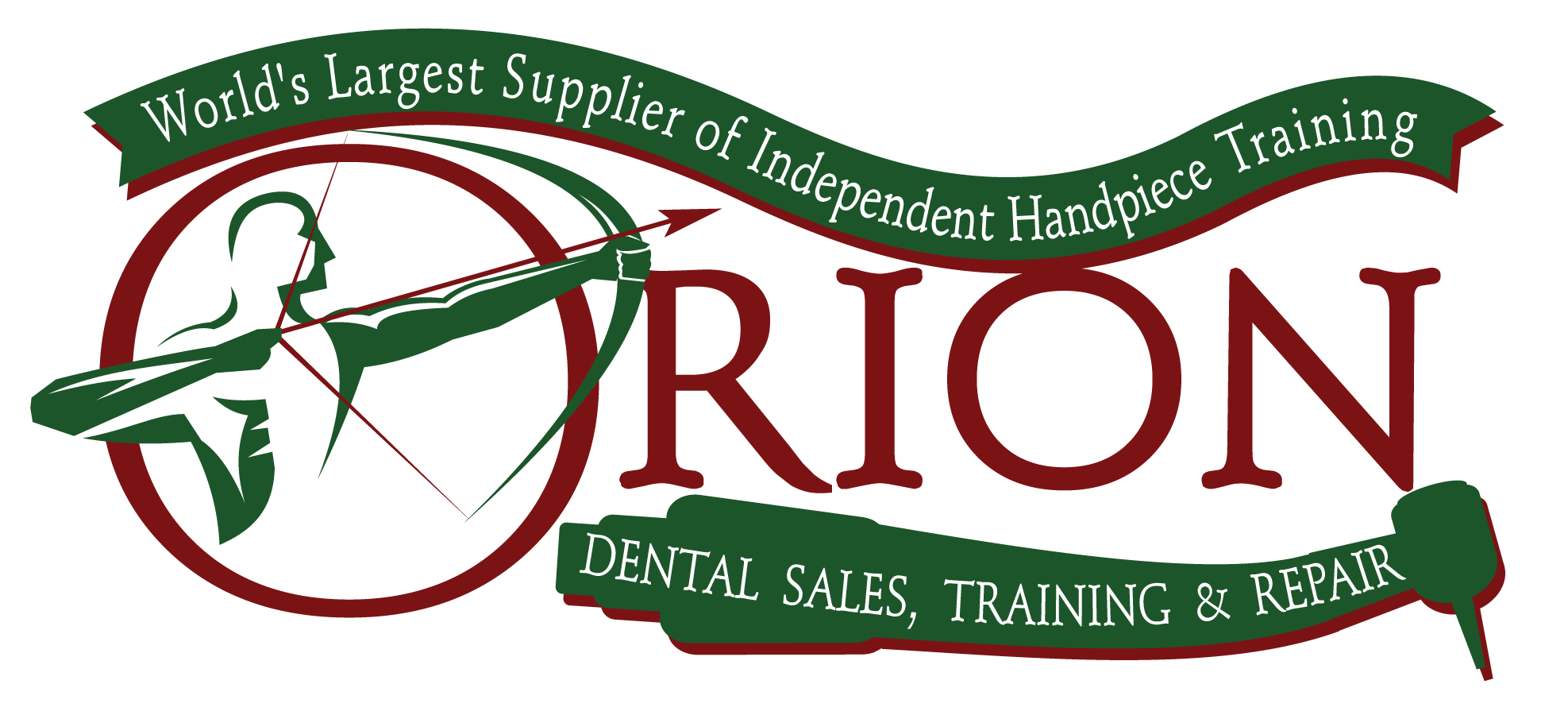 We Train You How To Open a Dental Handpiece Sales and Repair Center
Heat Sterilization of Dental Handpieces
FDA Medical Bulletin
Food and Drug Administration
FDA recommends that reusable dental drill handpieces and related instruments (such as air or water syringes and ultrasonic scalers) be heat-sterilized between patients to reduce the risk of disease transmission. If a handpiece cannot withstand heat sterilization, it should be retrofitted to increase heat tolerance and then sterilized. If this can't be done, the handpiece should no longer be used. Chemical disinfection is not recommended. Although no documented cases of disease transmission have been associated with contaminated dental handpieces, the American Dental Association also recommends sterilization of these instruments between patients. The Centers for Disease Control and Prevention also recommends that dental handpieces be autoclaved or replaced if they are not currently heat-stable.
Practice Innovations - Handpieces
DPR Magazine
The dental handpiece is probably the most often-purchased piece of major equipment in general dental practices, according to the results of DPR reader surveys over the past 10 years or so. First, on a daily basis, it's obviously the most used piece of equipment. And, because handpieces now are subjected to regular sterilization, they require replacement more frequently. In fact, this has been the greatest challenge recently for handpiece manufacturers – developing a handpiece that can withstand the rigors of repeated exposure to steam and heat. Design refinements in fiberoptics, bearings, and other internal components, as well as the use of corrosion-resistant materials, have significantly improved handpiece efficiency and longevity along with comfort and ease of use. This improvement effort continues to be a work in progress.
DPR's Editors
"Increasing use of heat sterilization of dental instruments, which tends to break down the components, has resulted in a greater need for handpiece repair globally."
— Donna Demerling, president, Timken Aerospace and
Super Precision
Thank you for your interest in Orion Dental Sales, Training & Repair. The following page of text is a more in depth coverage of this business training. Many different topics are covered related to this business. If you would like to further discuss any of these issues or others feel free to call or e-mail. It is somewhat extensive, but we believe it will answer many of the questions you may have as a potential business owner.
ABOUT US
Orion Dental Sales, Training & Repair has been in business nearly twenty years as an independent handpiece sales and repair center. We are the world's largest independent provider of dental handpiece training. We offer training courses and training packages which offer certification in dental hanpiece sales and repair. We have trained nearly 200 people from all over the world to open a dental handpiece sales and repair center including customers in North America, Europe, Asia and Australia. We also provide the best value in opening your new handpiece sales and repair business.
We provide a superior service to local dentists in our area in comparison to our national competitors. We are much quicker with next day service on highspeeds and two to three day service on slowspeeds, have better service than our national competitors and we can meet or beat any competiors prices.
Knowing the demand for this business service, as well as, the recognition that an independent option is more preferrable by most people than a franchise. We continue to offer our training packages and courses with one time fees rather than a franchise fee structure. Our new business start-up training courses and packages will offer all the necessary training, knowledge, and contacts to open this business as an independent rather than a franchise. We offer these training courses in addition to our regular handpiece business, and normally will train 6-12 people per year. Over the last ten years we have trained nearly 200 people from around the world including people from the United States, Canada, Mexico, Guyanna, England, Ireland, Scotland, Belguim, Itlay, India, Thailand, South Korea and Australia. We have trained people from all walks of life who have never had any dental experience in the past. In addition, we have trained people;
that now offer dental handpiece training

hospital bio medical technicians

Patterson Supply house representatives
We offer three days of hands on training covering either Highspeed handpiece repair or Lowspeed handpiece sales and repair, along with accounting, marketing, and new business start-up. These courses will include intensive hands on handpiece repair training at the repair desk including highspeed drills, slowspeed drills, nosecones, contra angles and ultra-sonic scalers. In addition to handpiece training each day, we will cover another aspect of the business such as marketing or accounting, depending on course chosen. We also offer an optional suggested shop tools and parts package. Most people choose to come for both courses together and purchase the shop/tools packages with the training courses, what is described as our Gold Package.
Training Package
Each day of training we will repair handpieces. However, in addition, each day we will cover other items including office and shop set-up, marketing, and accounting. During shop set-up training, we will cover items including; how to run your air compressor, air lines, and air station; review the needed tools and equipment for repairs, as well as, provide a list with a source and price for each needed shop item; overview, and review of our preferences, for each parts manufacturer including their addresses, phone numbers, and personal contacts; a suggested opening parts inventory list with each item in detail including a source and its cost; all the needed diagrams.
The two courses cover office training including new business set-up, marketing, and accounting.
First, in the office, we will train you the marketing for this business. We develop all of our marketing in house. This training will include; how to create, manipulate, generate marketing materials including tri-fold brochures, catalogs, fold over mailers, one page flyers, coupons, and related items; a copy of all the marketing material we have ever used to grow our business, including flyers, fold over mailers, and other materials; a computer disk containing that same marketing material so that you can plug that disk into your computer, remove my company name, and insert yours, thereby, getting a jumpstart on your marketing until you begin generating your own; those same computer disks contain graphics of handpieces and other items that can be used for marketing; training in various computer small business packages including Print Shop Pro Publishing, mapping aides, and simple database management packages; a step by step instruction in how to build accounts through various means including mail packages and visits.
Second, in the office, we will train you how to set-up the accounting for this business. This will include; QuickBooks Pro accounting package training; a suggested retail price sheet for every item you may see; how to set-up your invoices in QuickBooks; how to set-up your parts inventory in QuickBooks; a review of how to expense for the IRS a home based business; and related accounting issues.
Third, in the office, we will train you how to add new handpiece sales to your product mix. We will give you instruction in how to purchase, market, and sell new handpieces. This instruction will include; a review of the various handpiece manufacturers models and styles; handpiece sales company addresses, phone numbers, and personal contacts; a suggested retail price review for various items; and related matters in marketing and sales of new handpieces.
Finally, in the office, we will train you in how to solicit U.S. Government business on military bases and other installations. This Federal business is a great source of high volume sales. The process of obtaining this business is basically a two step process of first getting registered to do business with the government and then going out and soliciting this business.
Included with this training is three extensive training manuals. These training manuals include; an outline for our training period; the necessary diagrams; a list of the parts manufactures addresses, telephone numbers, personal contacts; a review of our preferences relating to the parts manufacturers prices, shipping policies, and related matters; a list of repair companies that will repair handpieces at a wholesale price for the odd tool for which in house repair is not available such as for tools where the company is no longer in business and the parts are no longer being made by anyone; a suggested retail price list for every item; a suggested shop tool and equipment list that gives a source and price for each item; a suggested opening parts list that gives a source and price for each item; manuals for the major tool repairs; marketing templates; new handpiece sales package with related information; a couple of major parts manufacturers catalogs; a package of various background information providing background knowledge about this business industry in general and in specific on a wide range of topics.
In addition to the three days of training and training manuals we will provide three years of free telephone support and retraining option. By telephone support I mean that if you receive this training you will get back home and in the beginning you will get a handpiece that you know how to repair, you feel that your steps have been correct, and that your next step is correct, but you will want to call to just make sure what you think is correct is correct. We will look at the same diagram together and will find out that the question being asked is a simple confidence building question, that what you thought was the correct next step was the right step.
Here a good analogy is that if I were to train you to swing a hammer and then you went out and swung that hammer for six months, at the end of that six months you would swing that hammer much better than when you had started. And it was not that you had learned anything new in that six months, it was only that the repetition made you a more confident and sure handed hammer swinger. I will refer to highspeed handpieces mostly in this piece because they are about seventy percent of the business. If you were to receive training here and went back home and got your first few highspeed handpieces you would probably take about an hour or an hour and half on that handpiece. You would probably take notes, be very slow and precise, however, after your fiftieth handpiece or so that same highspeed handpiece would only take about ten to fifteen minutes to repair.
The retraining option simply means that up to three years you would be free to come back for retraining for free. First, let me say, that as I mentioned highspeed handpieces are about seventy percent of the business, slowspeeds are about twenty five percent of the business, and nosecones and air scalers are about five percent of the business together. For example, if after a while you began to get extremely busy and started to see more nosecones and you felt kind of rusty on them, you would be free to come back here for retraining. However, I don't foresee a need for that, because I have a five day outline that in detail covers what we will cover each day. We will go as long as we need to each day to cover the necessary training. The days will build upon themselves with a lot of repetition and review included. We will thoroughly cover every aspect of repair training. We will repair the broad range of handpieces including highspeeds, slowspeeds, nosecones, and ultra-sonic scalers.
In brief, the training, the three manuals, and the related three years of telephone support and retraining option are a turn key business package that will give you all the necessary skills, information, and contacts to open your own dental handpiece sales and repair center.
Business in General
Now, I would like to discuss the business in general. Following is a brief description of this business. It is not intended to be a complete or full accounting of all discussed issues. I am available to further discuss any matters that I touch on here.
Competition
Ten or fifteen years ago the only companies doing this were the manufactures of the handpieces themselves. This was not a big business. What changed this was, in the past, when a Dentist needed to clean a handpiece he would dip it into a blue solution and swish it around. And that would be considered cleaned. But, now after each use these handpieces are put through sterilizers called Autoclaves or Chemclaves. These sterilizers are basically small ovens that bring the handpieces under pressure to a high temperature and hold them there for a few minutes before cooling them back down. This process causes the handpieces to break down much more rapidly than they did in the past. The ball bearings have cage materials and other phenolic laminates that become brittle and crack. The O-rings will literally turn to dust over time due to the sterilizer oven process. Also, for the same reasons, the gaskets and other motor parts deteriorate more rapidly than they did in the past. Also, the sterilizers have a twenty five to forty minute cycle time. This means that the Dentists have to have more handpieces to make up for the ones going through the sterilization process.
The largest source of competition is the handpiece manufacturer. Here for simplicity I will make a comparison of this business to the automobile dealerships. You can take your car to the dealerships but they are, generally, much slower and more expensive than the independent repair shop around the corner. We are a better repair value than the manufacturer's repair departments for three reasons. First, in price they charge a much higher price than we do. Second, we are much quicker than they are in repair time. On highspeeds we offer next day service and on slowspeeds we offer two to three day service. Whereas, the manufacturers depending on which one, what time of year it is, and how busy they are will take from anywhere from three to six weeks for handpiece repairs. They sell new handpieces and don't specialize in their repair. And finally we beat them in our level of service. When a dentist's office calls the manufacturer for a repair they must then get off the phone and call Fed-Ex for a pickup or the manufacturer does. Then, these are expensive tools they must be boxed up for safe shipping. They have to worry is there enough packing material, will it get their safely. Therefore, for the dentists it is a much easier service to use when we come pick up the handpieces immediately and then hand deliver them back to their office. For many dentists who can get very attached to particular handpieces for use in their practice to suddenly be able to get next day service, versus the three to six weeks that they have been receiving, plus with a better price and the personal service, they are very appreciative of the new service you are providing. You will hear in the beginning from dentists who have been using the manufacturers for their repairs comments such as," wow I wish I knew about you sooner" or" wish you had been open sooner."
Another source of competition on the national level is the national catalog companies. They sell everything under the sun the dentist might need. These companies have about a thousand page catalog with one page devoted to handpiece repairs. In price, we charge the same for repairs. Generally with all the independents, besides the handpiece manufacturers who charge a much higher price, there are not necessarily fixed prices, but an agreed upon pricing structure whereby everyone is charging about the same. With the national catalog companies, we beat them in two ways. First, we are faster than they are in repair time. These mail order catalogs will typically take five to ten business days for repairs that we offer next day on highspeeds or two to three days service on slowspeeds. Secondly, they do not offer the personal level of service that we provide by being in the dentists' local area. Again, the dentists have to box the tools for shipping and schedule the pickup whereas, we provide free personal pickup and return delivery.
Finally, as a source of competition, on the local level there are the franchisees and the few other independents in the handpiece repair business. This business is ahead of the curve in terms that there is still not a lot of local competition in many markets. Some bigger areas will have some, but for many areas there is still no one offering this service to the dentist on a local basis. With the other independents and franchisees they are not your real competition. Each of you only need your own two hundred accounts. The real competition is the national companies, that you can easily out perform in service, price, and speed of repairs.
Business Positives
Additionally, I would like to cover a few more points about the business in brief including; this business is not a labor intensive business. Most of your time will be spent picking up and returning the handpieces rather than the actual time it takes to do the repair; this business is not a space intensive business. It can be run out of a small bedroom or corner of a garage. Basically the shop area needs a desk, some shelves, and good lighting. The office needs a desk, a computer, a good printer, and some shelves; the repair skills can be taught to anyone who has the ability to learn and retain, perhaps at least a high school level of education. It is not rocket science. It is much repetition with similar motor designs and the same brands and styles across the broad market of dentists. It is not an issue of strength, but more of a patient and precise hand; we work with small items but not so small as to require any magnification; the business is very rewarding in that you work with your hands on expensive, precision drills whereby you take them completely apart clean all the parts replace the necessary items, then rebuild them, test and make the handpieces run like they are new again; the business can easily be run by one person or can be split with a spouse. My wife and I in the beginning split territory and each of us did a little bit of everything. After about a year we realized she liked doing the pickups and deliveries, as well as, dealing with the individual dentist offices while I enjoyed the repairs more. We both develop the marketing together and I do the bookkeeping; the business has a relatively low start up cost; the business provides a service that is in high demand.
Each and every single dentist office uses a handpiece repair center. The handpieces are expensive and can be repaired over and over for many years; the business provides immediate cash flow with sales and new accounts not hard to get with the level of service you provide; the business has a high profit margin. Here I refer to gross margin which is simply the retail minus the cost of goods sold, before any salary or household expenses are paid. The gross margin is about sixty seven percent. Briefly, in highspeeds there are two types push button and standard. If you are familiar with old carpenters drill that required a chuck key to loosen and tighten the bit, that is a standard highspeed. Now, you can buy drills with auto chucks which in handpieces are called pushbuttons. For standards or manuals we charge $99.00 and for most pushbutton highspeed handpieces we charge $149.00. For a worst case scenario I will break out the gross margin for a high speed repair. Each highspeed has two o-rings, two bearings, and a gasket. An o-ring cost about thirty five cents to fifty cents a piece depending on the size of the buy. A highspeed bearing will cost from about four dollars to nine dollars depending on the type and the size of the buy. And a gasket will cost about thirty to fifty cents a piece depending on the size of the buy. On a standard there is a two piece chuck and spindle that is very reliable with one piece machine threading into another. One part or the other will go out independently. The inner chuck will lose a flute through age and metal fatigue. The outer spindle will be pressed too many times and will become loose and need to be replaced. The chuck costs on average six dollars. The outer spindle costs on average about nine dollars, or you can buy both for about twelve dollars. Most times all the manuals will need is two orings, two bearings, and a gasket. However, if everything was replaced, the twelve dollars for the chuck/spindle plus the thirteen to fifteen for the two o-rings, two bearings, and a gasket equals about thirty dollars subtracted from a retail of ninety nine dollars. The pushbutton has the same cost for the o-rings, bearings, and gaskets, plus the one piece spindle, which will not last as long as the standard chuck and spindle, which costs about thirty two dollars equates to forty four dollars subtracted from the retail of one hundred and forty nine dollars. The actual gross margin is more like seventy three or four percent due to what is called clean, oil, test charges which are pure profit and go straight to the bottom line since no parts and only labor are used. A clean, oil, test charge is anywhere between forty nine dollars and ninety nine dollars depending on the complexity and time involved. The need for this is since these tools are air drills they have a tendency to back suck when the air is let off which can cause some debris to enter the motors. This debris can cause a motor, which the bearings and related parts are in good shape, however that little bit of debris has lodged itself in the right spot to cause that tool to freeze up. We break down that tool completely, clean it, put it back together, and test it. Also the profit margin is actually higher due to the much better margin on slowspeeds. We charge one hundred fifty nine dollars for slowspeeds. The average slowspeed will require four bearings, some o-rings, and gaskets costing in total parts cost about fifteen to thirty dollars depending on model. However, slowspeeds will take about an hour and a half to repair versus the ten to fifteen minutes for highspeeds. So therefore this business has a high profit margin with the replacement of relatively inexpensive parts.
Marketing and Potential
In conclusion, the marketing and how much money and how quickly it can be made go hand in hand. The franchisers recommend a territory of between seven hundred fifty dentists to fifteen hundred dentists. Since I am not selling you a restricted territory you are free to draw your area as large as you like. You are free to market to dentists statewide, nationwide, on the Internet, or whatever region you like. I would recommend and will show you how to grow this business as a local service to your area dentists. Therefore get out a map and draw the area you feel you can comfortably cover. Then get out the yellow pages and count how many dentists you have in that area. The larger the number of dentists, of course, will be directly related to how fast you can grow your business. According to "The Dentist's Choice"(The Dentist's Choice is a registered trademark and Orion Repair is in now way affiliated with it) franchisees we interviewed, when we looked into their franchise, and correlating our numbers, at about two hundred accounts you will make about one hundred thousand a year take home and at about two hundred accounts you will be as busy as you can manage with no employees running the business as a home based business. The two hundred account number is flexible in that many dental offices have three, four, five, and more dentists per office. If all your accounts are large offices then of course that two hundred number may only be one hundred and fifty or so. So set as a goal two hundred accounts while you are continually seeking to grow your business to that number. How fast or how much you will make is directly related to the size of your market-the number of dentists in the area you choose to market to, and to the amount of effort you put into marketing and growing new accounts.
Briefly, this business is a business that can be operated on a part or full time basis. It can be started part time by only marketing to twenty dentists and then slowly adding dentists as you were ready to accept the business.
Finally, I will touch on briefly, how we marketed and grew this business. First of all we did a tri-fold brochure on heavy bonded paper that briefly introduced us to the dentists, what we offered, our prices, and our warranty. Also, we do an assortment of freebies or goodies such as rolodex cards with company name tabbed out and advertising information, logo pens, 3M post it note pads with logo, lubricants with logo and information, etc. with each mailing or visit. We mailed our tri-fold brochure out to all the dentists in our area with some freebies included in the mailing. Then, we waited for the business from that mailing. It was nice on our first mailing we had business ten days later. In the first year we tried to get our name out there as much as possible without being annoying. So we would follow up our mailing with visits to each dentist office. By visits it was not necessarily that you get to talk to the dentist, the office manager, or even the hygienist who is responsible for the handpieces, but rather is simply an opportunity to drop off further information about your products and/or services, discounts, specials, or new items in the form of one page flyers with or without some form of coupon along with a few freebies. Then you would wait two, three, four weeks depending on how busy you were, and then you would follow the visits with another mailing highlighting a different point of your business services. Then you constantly rotate mailing and visits to constantly keep gathering new accounts and interest. After a while your new accounts just keep rolling in on their own and your not sure whether it was from some information that was mailed to them or the rolodex card you delivered to their office. We also in the first year or so sat down and called all of our accounts with a brief twenty second message to whoever answered the phone. The short message would say something like "Hi my name is Paul Laird with Orion Repair, we would like to be your local handpiece sales and repair center. We would like to let the person responsible for the handpieces, in your office, know that we have a monthly special this month for ten percent off any handpiece repair. Thank you very much and have a nice day." So that is basically how we built our business.
Conclusion
Thank you for visiting our website and your interest. Please, call if you would like a brief verbal overview of the business, which usually takes 3-4 minutes, and afterwards, I would be happy to answer questions or provide more information. Also, please telephone or email if you would like more information or if you would like a specific question answered. We look forward to helping you, if we can, to open your own dental handpiece sales and repair center. A good place to start reading information about our training courses is at our website under the Frequently Asked Questions section.
We offer two training courses along with training seminars that can be purchased with or without related suggested opening shop tooling and parts inventories. The courses cover high-speed and low speed dental handpiece sales and repair. Most people come for both courses at the same time and purchase the related shop tooling and parts from us. We offer an independent option to open your dental handpiece sales and repair center rather than a franchise for a one time fee for our training course or courses. We do not restrict you in any way in the operation of your business, and you would be free to locate it wherever you choose in the future. What we do is offer a local sales and service option to dentists, and then compete against national companies. But, by being in the local market through a combination of speed, price, and service, we are able to offer a better option to dentists. We are not a franchise. We offer an independent option for a one time fee, rather than a franchise. The training courses include 3 years of free telephone support, 3 years of free re-training support, and 10 years of free email support.
The other costs in opening the business after our training course fees, are whether or not you purchase shop tools and parts from us, or purchase them separately. We can provide those with training, and ship them back to you after training, or you can wait and purchase the items after training from a list that we will provide during training. We have written a good suggested opening inventory of parts and tooling for the both high and low speed repair courses. If you need to open on a tight budget, then, you may want to buy the parts and tooling separately, and during training we will go over the items while making some suggestions on reducing the opening inventory to save some money on opening costs. We always suggest tight cash management in that every dollar that can be saved during opening will best be spent on marketing during the first year. After the training, tools, and parts costs, then the other opening expense is primarily marketing. Also, you will have some small fees in opening such as opening a new business bank account, local license fees, credit card machine set-up fees and other small general opening expenses. Marketing expenses include printing, ink, paper, postage and other promotional items(logo pens, etc.) we suggest using during a combination of mailings and advertising drop-off visits to the dentists in your local area.
We also offer a few less expensive options that allow you to open the business through the mail. The Business in a Box program will show you how to market the business, provide marketing material templates, then you will use the information to open your business without the need to come here for our hands on training courses. These manuals show you how to open the business through the mail, and then mail off the handpieces for a wholesale repair price that you would mark up to retail. On average you would make about $50 per handpiece which is less than repairing them yourself, however, this would still be a good profit for going to the post office while picking up and dropping off dental handpieces. This package can pay for itself very quickly, can create a profitable business that has low start up costs and the training can be down through the mail. Plus, this is an easy business to run part time to supplement your income that can lead to a full time business. These less expensive options include a Business in a Box package and two sets of technical manuals.
This business has been enjoyable to operate and very good to our family. We have been offering this training for over ten years, in addition to our normal sales & repair business. We have trained nearly 200 people from the United States, Canada, Mexico, Guyana, England, Ireland, Scotland, Belgium, Italy, India, Thailand, Australia and South Korea including individuals with many different backgrounds from dentists, hygienists, hospital technicians, office workers, people from all walks of life, new business owners, American, German, and Indian engineers. We hope we can assist you in the future to open your own dental handpiece sales and repair center. A real home based business that is easy to operate, has high demand and can be run full or part time. We offer an independent option rather than a franchise at a much better value to open your own dental handpiece sales & repair center. We are the best choice to open your dental handpiece sales, service, and repair business. And, we are the largest supplier of independent dental handpiece training in the world.
In conclusion, this business has been good for our family and we believe it can be good for many others. We will give you the necessary knowledge, information, and contacts for you to open this home based business. Plus, we will give you our experiences in this business that have enabled us to succeed. This is a real business that will not make you a millionaire overnight, however, with hard work and dedication, along with our assistance, it can make a nice income, upwards to one hundred thousand a year, as a simple to operate, home based business.
Again, thank you for your interest. We look forward to helping you, if we can, to open your own dental handpiece sales and repair center. Please, email or call if I can be of any assistance. I look forward to speaking with you and answering any further questions you may have. Please feel free to call or e-mail me at your convenience.
Here is a funny clip, just for your entertainment. Thank you for visiting our website.