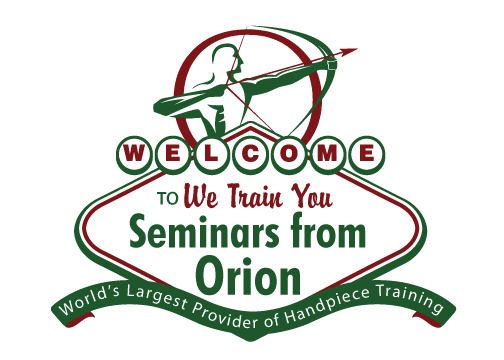 We Train You to Open your own Dental Sales and Repair Center
Dental Lowspeed Handpiece Repair Training
Seminar Day 3
We Train You Seminars
Join us to learn the skills needed to open a dental sales & repair center which is a profitable, stable and simple business concept. Or, use this training to add to your income with a business that can easily be run part time from home. This business has low start up costs, has high demand, is recession proof and has immediate cash flow. Reserve your spot now, before all spaces are full.
This is a Lowspeed Dental Handpiece Repair seminar that will teach how to repair lowspeed dental handpieces along with the procedures to complete the task comfortably at your own location. We will also cover the common repair of an Ultra Sonic Scaler which is a simple and profitable repair.
This Lowspeed Dental Handpiece Repair Seminar will take you from understanding the parts and tooling needed for lowspeed dental handpiece repair to understanding how to repair the lowspeed dental handpieces that are used worldwide. Support and reference materials included with the seminar. Lowspeed dental handpiece repairs are the second most common repair in a dental handpiece repair center with an average profit of about $150 per unit. You could pick up about 5-10 units per day. Learn this profitable skill from the best.
Positives:
Can be a Homebased business

Worldwide demand, can reopen business anywhere

Simple and easy to operate

Large growth potential in various dental product sales
Join us to learn how to open your own business...
How To:
Open your Dental Sales & Repair Center

Repair Lowspeed Dental Handpieces
Dental Lowspeed Handpiece Repair Seminar Includes:
Certification in Lowspeed Handpiece Repair

6 Months of Free E-mail support

A Simple Checksheet of Things To Do Before Opening
Morning Session
Lowspeed Repair Seminar
Opening/Cleaning Techniques

Repair Procedures

Tooling/Parts Needed

Manuals/DVD Resources
Afternoon Session
Lowspeed Repair Seminar
Handpiece Repair Practice Lab

Certificate Presentation
You can come for all 4 days or select the days that fit your needs.
Day 1, Friday -- Dental Sales & Marketing Seminar

Day 2, Saturday --Highspeed Dental Handpiece Repair Seminar

Day 3 Sunday --Low Speed Dental Handpiece Repair Seminar

Day 4 -- Extra Repair Practice Handpiece Lab
Seminars Can Include Hotel Room
To receive financing for this training, select Bill Me Later during checkout--financing provided by PayPal.
More Information from PayPal Available Here
We will teach you everything you need to start this business, as well as our knowledge, experience, and contacts. We are available to further discuss any questions you may have concerning this opportunity. This business has high demand and low start up costs. However, it takes hard work and commitment to grow your own business, but with our help and support, we believe we can make that a somewhat easier accomplishment.
Thank you. We look forward to meeting you in Las Vegas and helping you to open your dental handpiece sales & repair business.
Orion Dental Sales, Training & Repair