Model
NSK Care3 Plus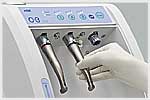 Automates Burdensome Handpiece Maintenance
Correct maintenance performed at regular intervals is a key to high performance and longer life of your handpieces. NSK designed easy-to-use Care3 Plus to facilitate handpiece maintenance at your office. Care3 Plus automatically cleans and lubricates up to 3 handpieces at one time with a touch of button. Both high speed and low speed handpieces are processed thoroughly in a single 2-minute operation cycle. You custom pick your 3 desired port adaptors. Click Here for Care3 Maintenance Oil and Filter Sets.
Suggested Retail: $2485.00
Product Features:
Custom pick your 3 desired port adaptors (see above right).

Economical, efficient and time-saving

A fail-safe maintenance solution for your office

Filtered air used to rotate handpieces for safety

Care for Most Handpieces & All Handpiece Brands

Disposable mist filtration system

Detachable door for easy cleaning of the unit

Easy replenishment of solution tank
Complete Cleaning and Lubrication Guaranteed
High Speed Handpieces

NSK's maintenance system also guarantees complete cleaning and lubrication of high speed handpieces. The important turbine component, and air and water channels are thoroughly cleaned up.

Low speed Handpieces

NSK's rotational maintenance system guarantees complete cleaning and lubrication of low speed handpieces. Extra penetration of solution is required to clean and lubricate low speed handpieces as they have built-in gearing mechanism. Care3 Plus's rotary port turns the gear inside contra, allowing lubrication and cleaning simultaneously and effectively in every detail.
Air Activation

Air supply is activated by touching the "Air" key. Air flow flushes out all residual solution.

Original Air Filter

Clean air supply is a must for effective handpiece maintenance. NSK Care3 Plus comes with a highly efficient air filter that can be exchanged and installed easily wherever you desire.

The Oil Level Indicator

Oil level indicator is ideally located at the front panel of Care3 Plus unit to clearly show amount of oil in the tank.

Easily Cleanable

Care3 Plus's front cover can be completely removed for easy cleaning.

Virtually No Mist

Disposable and exchangeable filter sponge absorbs spray mist within the unit. Filter sponges come in a pack of 12.

Power Cord with L-Shaped Plug

The power cord with L-shaped plug allows easy connection of Care3 Plus to any outlet in your office or laboratory.

Solution Tank

With a full capacity of the solution tank, you can maintain up to 3,500 handpieces (S mode).To refill the tank simply unscrew the cap on top of the unit and pour in new Care3 Plus solution.

Supports Most Handpieces from Any Handpiece Manufacturer

Any NSK handpiece can be directly connected to Care3 Plus with a proper coupling. Most handpieces from other manufacturers can also be connected directly by using a relevant adapter.

Simple to Operate

Open the door and attach up to 3 handpieces to the Care3 Plus couplings.

How to operate
How to Operate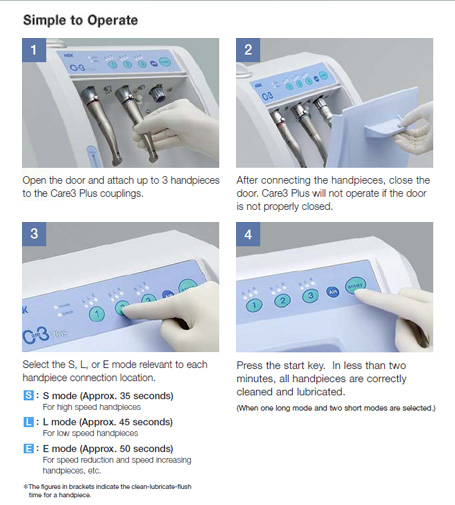 Care3 Plus Adaptors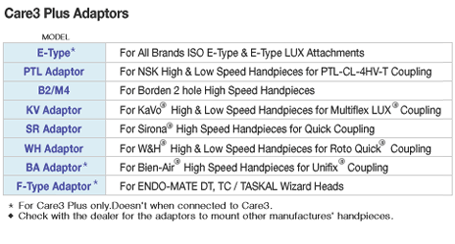 Price: $1,999.95