Model
NSK Z500D Bench Top Tower Lab System
with Micromotor (120V)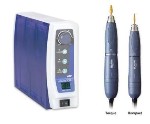 NSK's Space-saving Bench-top Tower System
The Z500D Micromotor comes with a space-saving tower control unit. If you want more workspace, the unit may be wall-mounted using an optional bracket. Featuring unparalleled power and performance, the Z500D is an ideal choice for tough laboratory work.
System Includes: Control Unit, Micromotor, Foot pedal, and Handpiece Stand.
Product Features
Speed of 1,000-50,000 rpm

Optimal Control by Microprocessor

Able to operate an air turbine handpieces

Easy to-operate Display Panel

Error code Display Function
The NSK Advantages
Air Activation

Air supply is activated by touching the "Air" key. Air flow flushes out all residual solution.

Original Air Filter

Clean air supply is a must for effective handpiece maintenance. NSK Care3 Plus comes with a highly efficient air filter that can be exchanged and installed easily wherever you desire.

The Oil Level Indicator

Oil level indicator is ideally located at the front panel of Care3 Plus unit to clearly show amount of oil in the tank.

Easily Cleanable

Care3 Plus's front cover can be completely removed for easy cleaning.

Virtually No Mist

Disposable and exchangeable filter sponge absorbs spray mist within the unit. Filter sponges come in a pack of 12.

Power Cord with L-Shaped Plug

The power cord with L-shaped plug allows easy connection of Care3 Plus to any outlet in your office or laboratory.

Solution Tank

With a full capacity of the solution tank, you can maintain up to 3,500 handpieces (S mode).To refill the tank simply unscrew the cap on top of the unit and pour in new Care3 Plus solution.

Supports Most Handpieces from Any Handpiece Manufacturer

Any NSK handpiece can be directly connected to Care3 Plus with a proper coupling. Most handpieces from other manufacturers can also be connected directly by using a relevant adapter.
Specifications
-Power Supply:AC 120V 50/60 Hz
-Weight:3.1 kg
-Dimensions:W81 x D270 x H230(mm)
Price: $1,398.95